Menu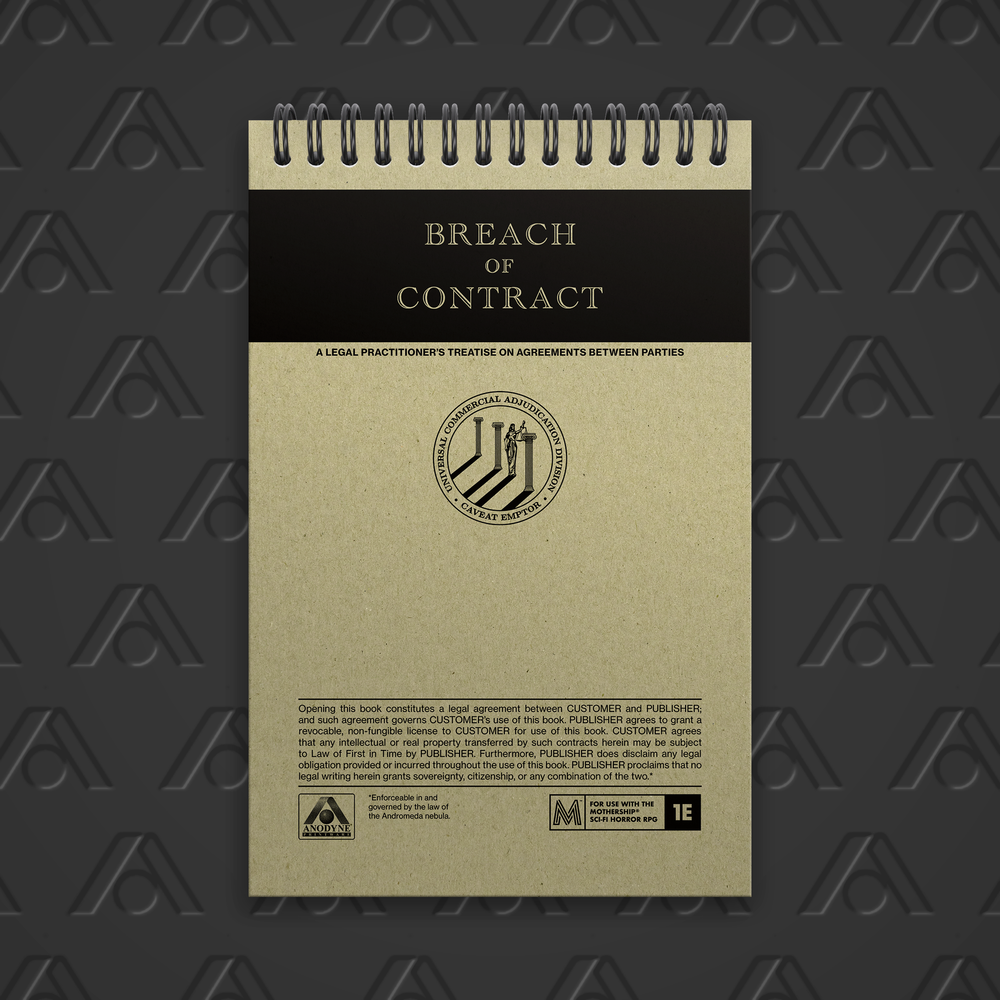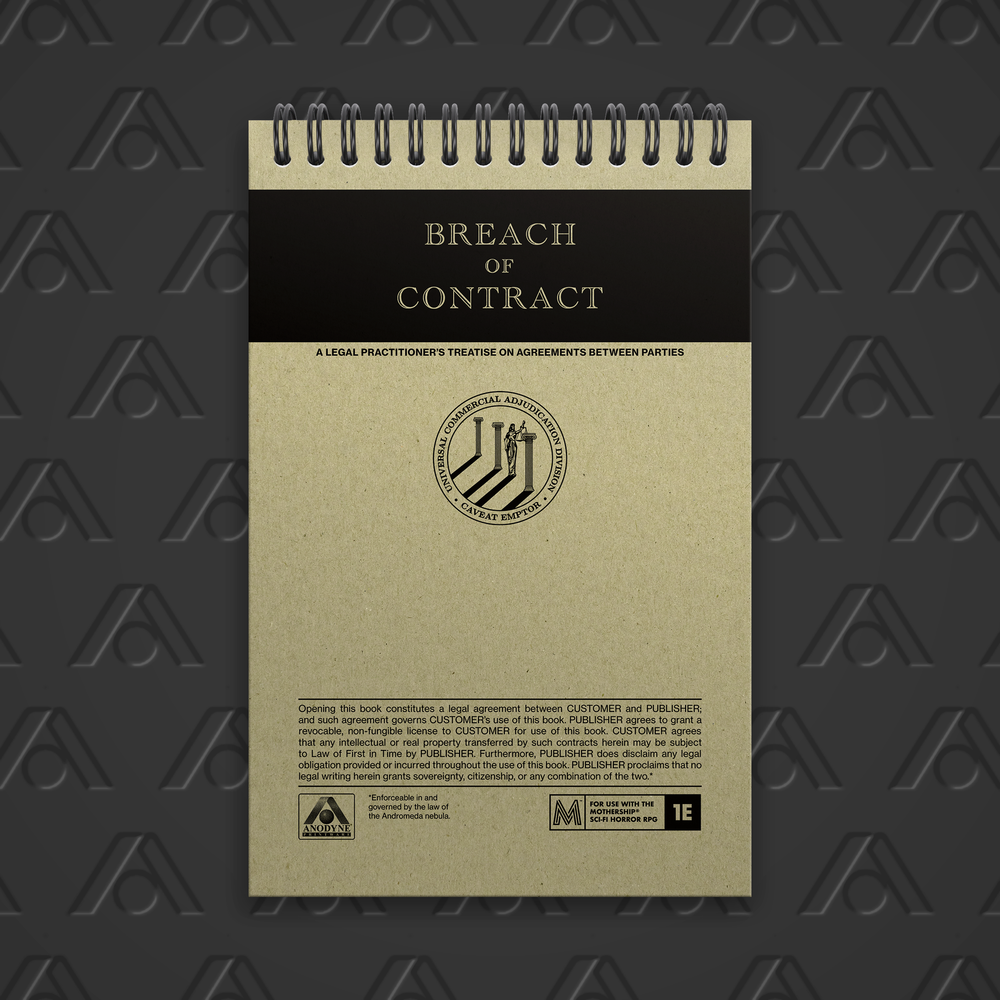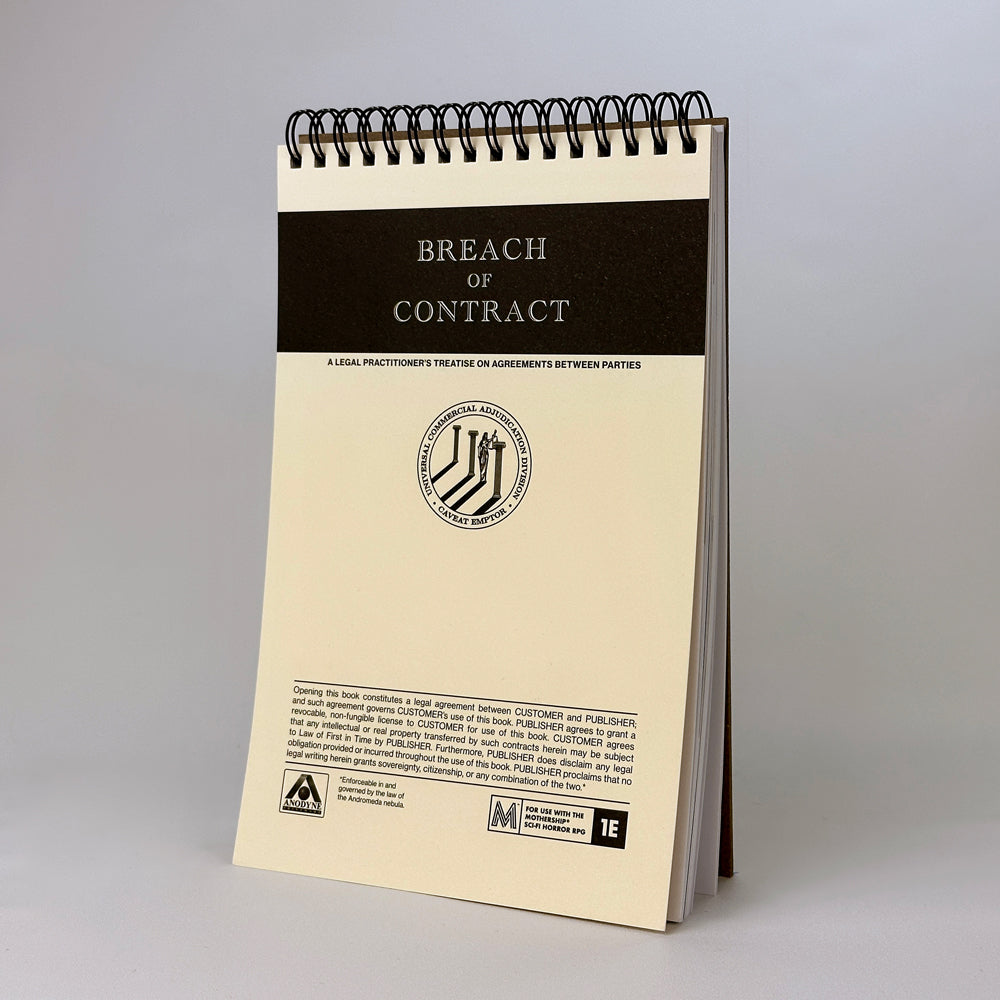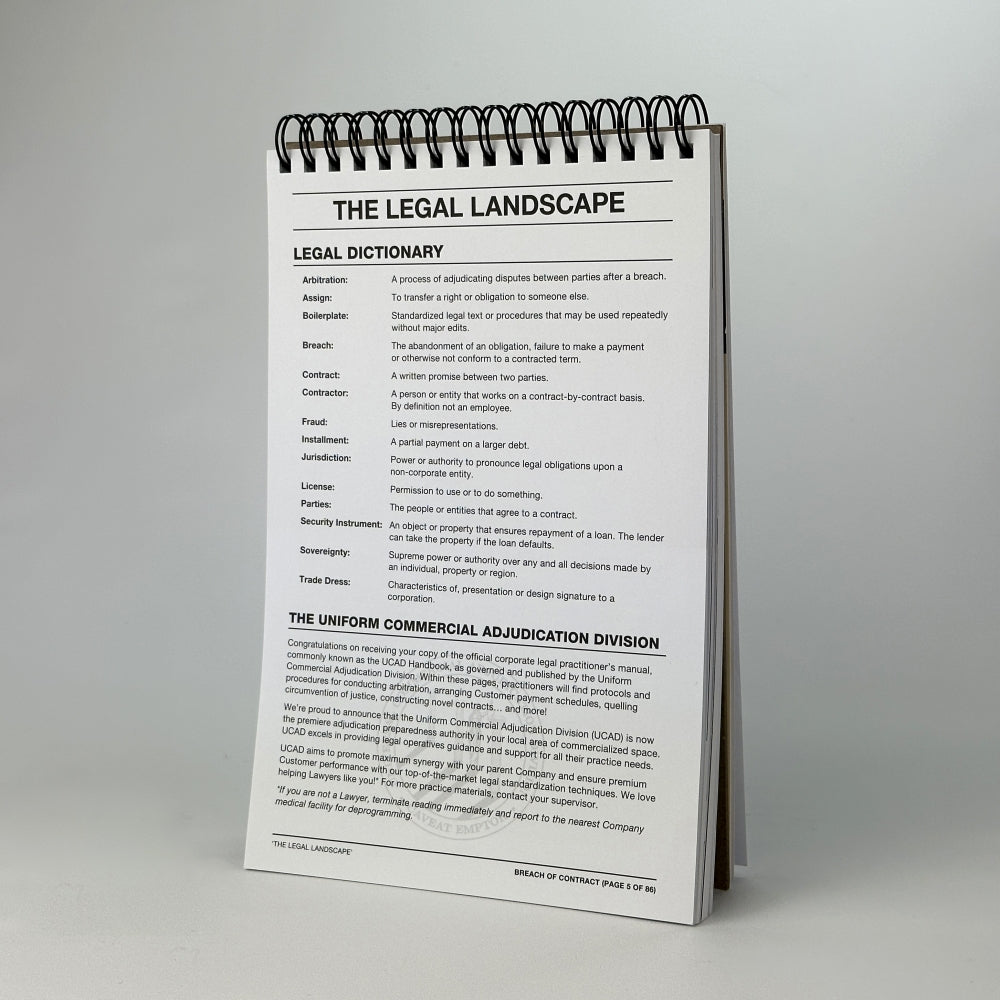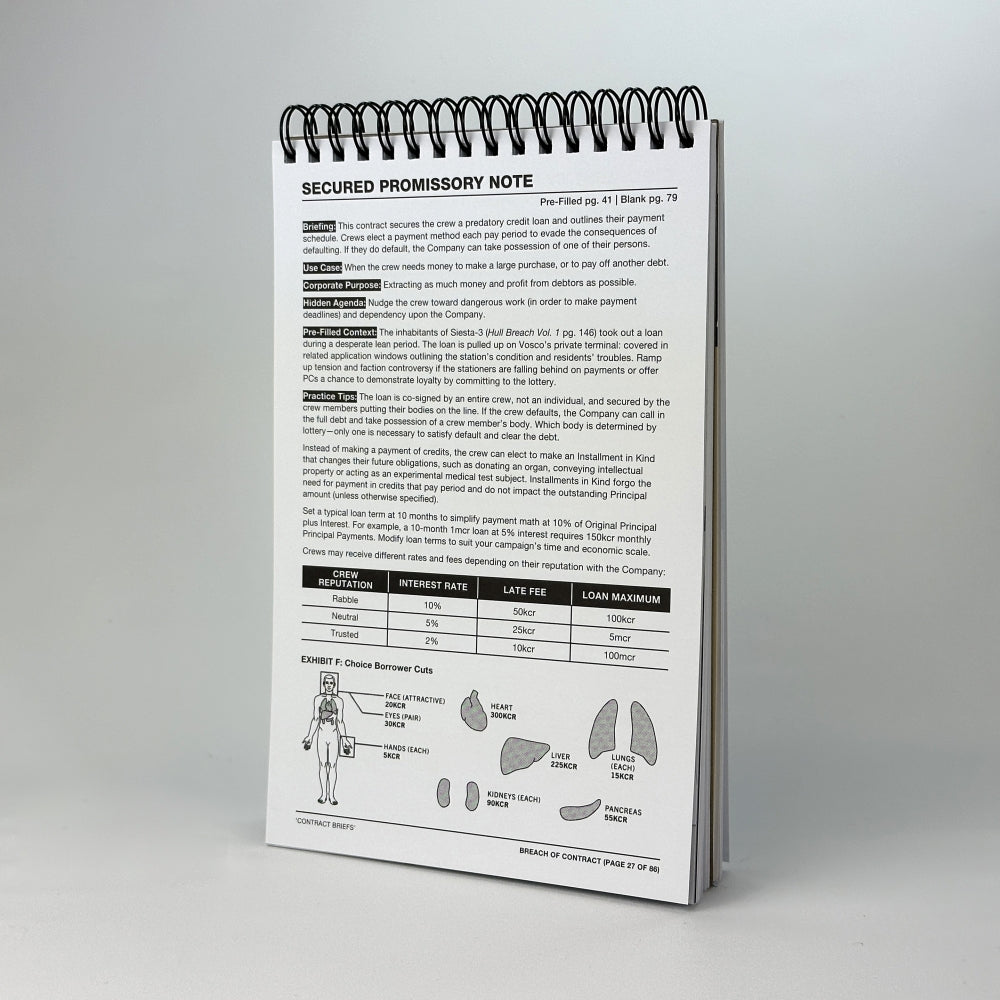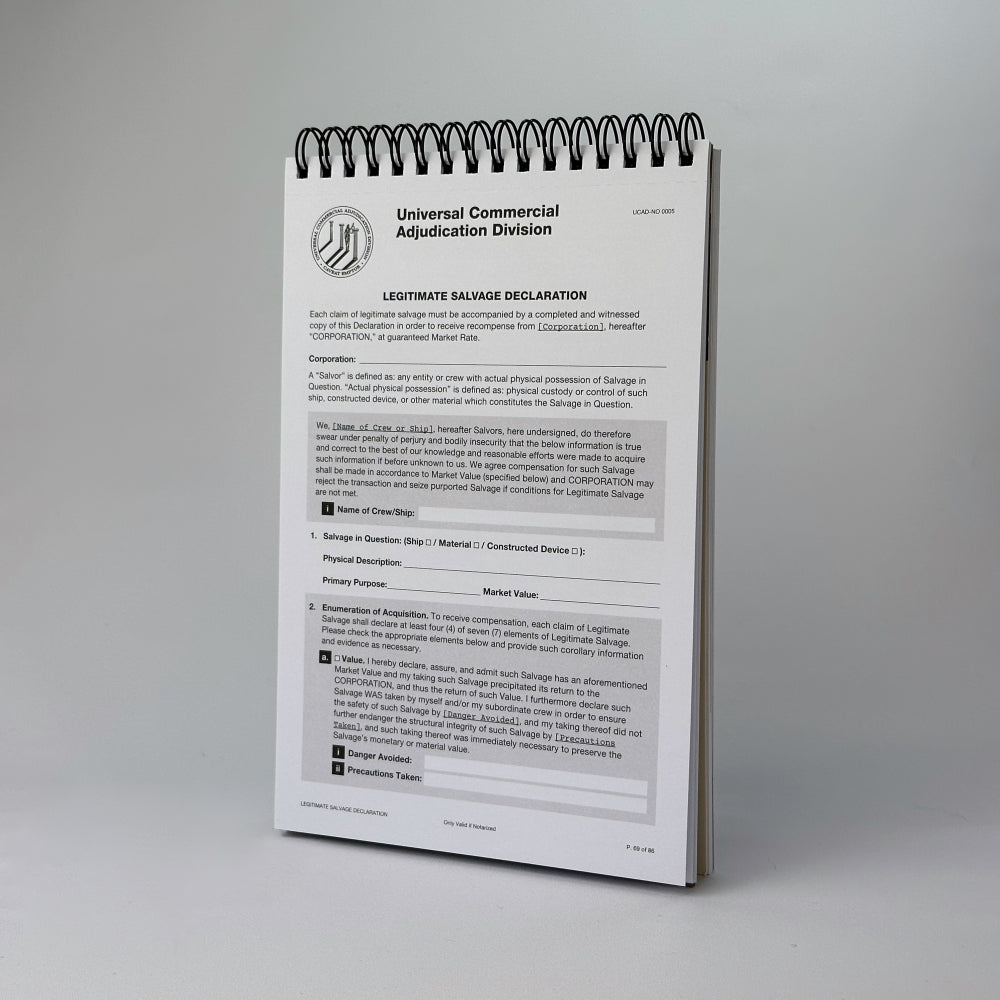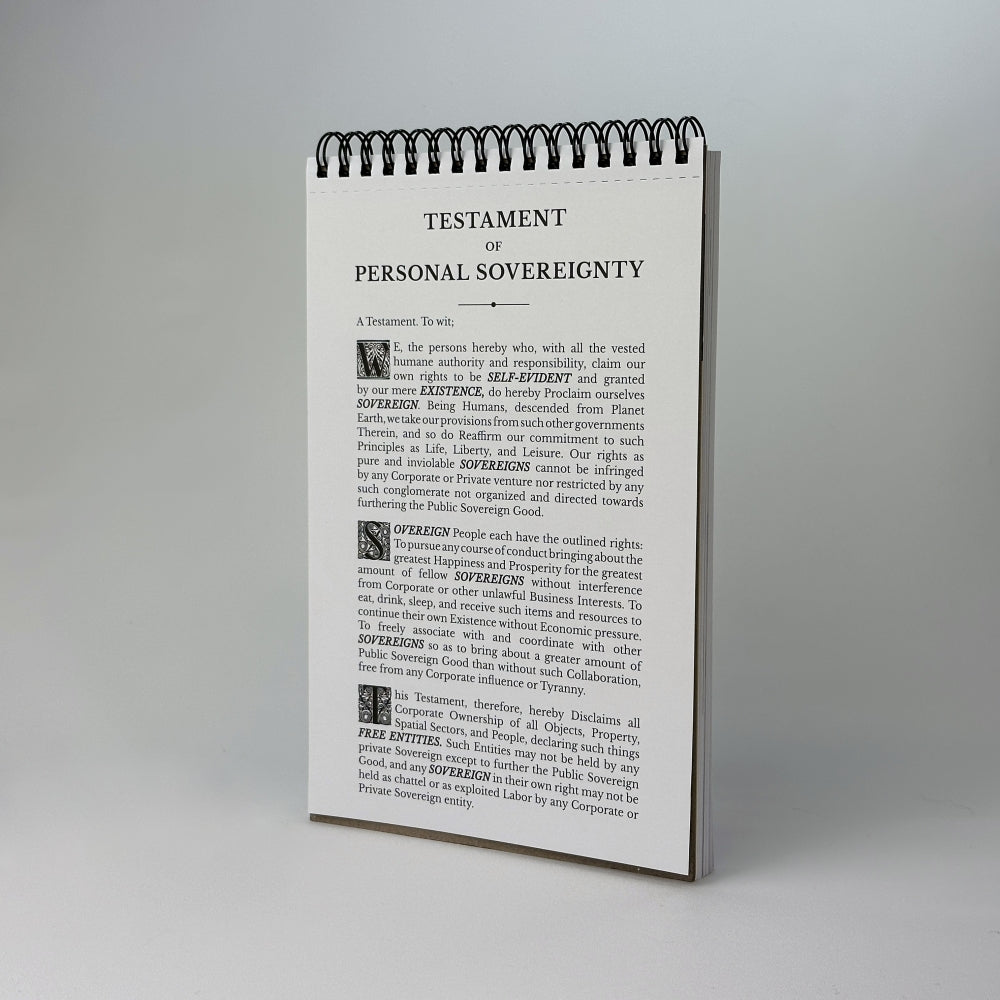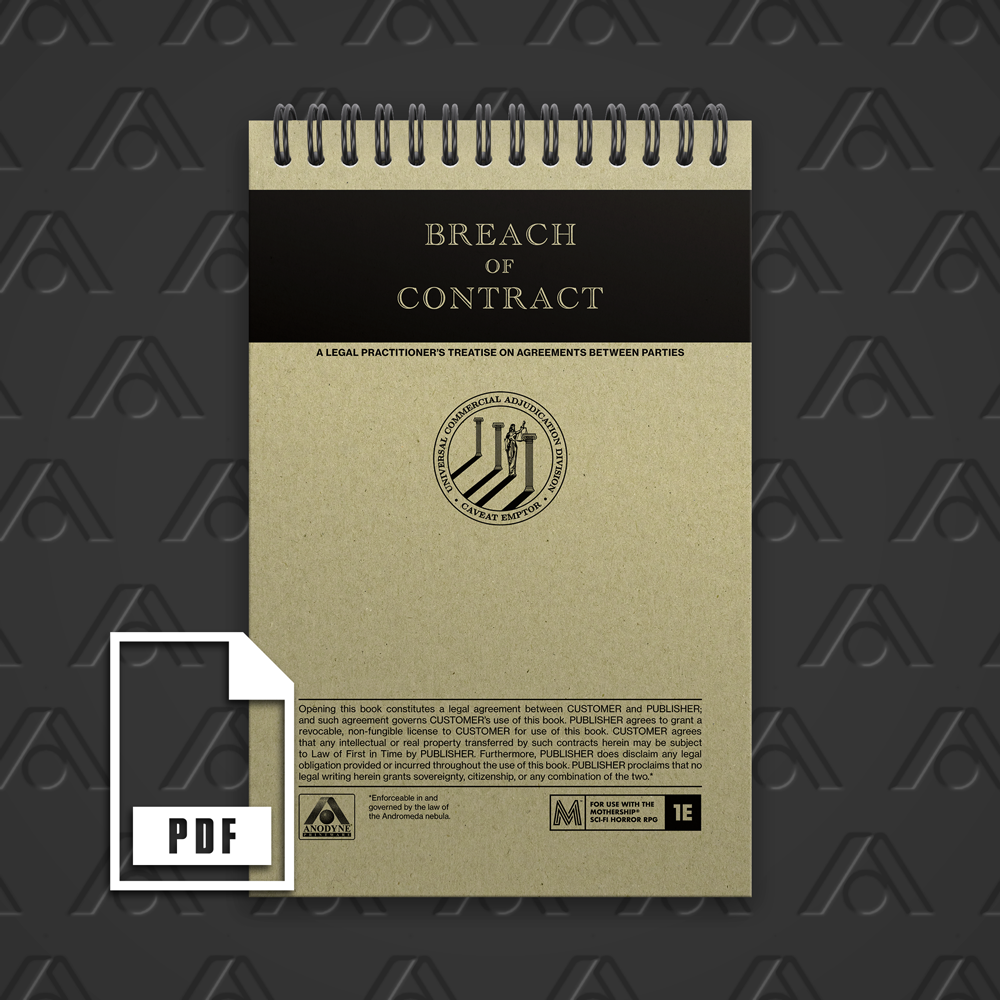 Swipe ⇄ for more images.
Regular price
Sale price
$25.00
Unit price
per
Sale
Sold out
Let slip the dogs of corporate oppression with this complete guide to interstellar contract law, featuring immersive tear-away contract handouts to enhance your game with legal and economic horrors.
Product Description
Breach of Contract is the definitive authority on dystopian corporate law for the Mothership Sci-fi Horror RPG 1st Edition. This book will teach you how to think, act and negotiate like a megacorporation; helping you realize the Company's influence over your campaign world, establishing a tangible and ruthless presence in the PCs' lives. 
The law is dead, long live the contract.
Alongside general counsel on legal concepts, tools and mechanics, award-winning RPG designer and practicing attorney Emily Weiss (Picket Line Tango) presents 8 in-universe and customizable player handout contracts: from loans and licenses to terms of employment. We enter into evidence the following examples:
Legitimate Salvage Declaration:

Regulating the means by which ships and their contents may be legally reappropriated from former owners.

Death Indemnity Policy:

Establishing insurance benefits in the event of a crewmate's untimely demise. Eulogize PC deaths with fond remembrances as you attempt to cash in their policy.

Artificial Intelligence End-User License Agreement:

Covering terms of use for your ship's friendly onboard AI, including disaster protocols in the highly unlikely event of an ethics deviation.
These legal materials inject dry bureaucratic proceedings and transactions with opportunities for engaging decisions, thematic encounters and open-ended challenges.
We make paperwork fun!
You still haven't signed yet? We're prepared to offer the following supplementary benefits:
The new Lawyer class,

capable of navigating contractual mazes and thriving in high-stress situations.

Stacks of legal tables and generators

including lawyer NPCs, legal urban legends, contract-signing rituals and more!

A secret, mythical bonus contract

which may hold the key to toppling megacorporations.

Form-fillable contract PDFs.
And more!
While written as a fully standalone Mothership supplement, Breach of Contract also includes direct hooks and references to our adventure anthology Hull Breach Vol. 1, expanding its setting with pre-filled contract artifacts.
Brought to you by the Universal Commercial Adjudication Division.
Specifications and Credits
86 pages, 5.5" x 8.5", B&W, wire binding.
Fully hyperlinked, bookmarked and screen-reader ready PDF included.
Compatible with Mothership 1st Edition.
Made entirely by humans.
THE TEAM

Written by Emily Weiss
Layout and Design by Meredith Silver
Editing by Fiona Geist
Development and Additional Editing by Ian Yusem
PDF Accessibility Remediation by Dai Shugars
Published by

Anodyne Printware
Shipping Information
LOCATION: All our books ship from our warehouse in Maryland, USA.
SPEED: Our warehouse strives to ship out packages within 1-2 business days of orders placed during business operations (Monday - Friday). If you place an order on Friday, Saturday or Sunday, your order will likely not ship until the following week.
TRACKING: All shipping is fully tracked.
PACKAGING: Your order will be carefully and safely packed in rigid or cardboard-reinforced mailers, or sturdy boxes depending upon the size of your order. Our expert warehouse team will handle your books with love!
CARRIERS: US-domestic orders will be shipped by USPS, UPS or DHL. International orders will be shipped via DHL.
INTERNATIONAL ORDERS: Please note that shipping costs do not include any customs fees, duties or taxes applicable to your country of residence, and you will be responsible to pay any such fees due on your order upon delivery.
View full details