Menu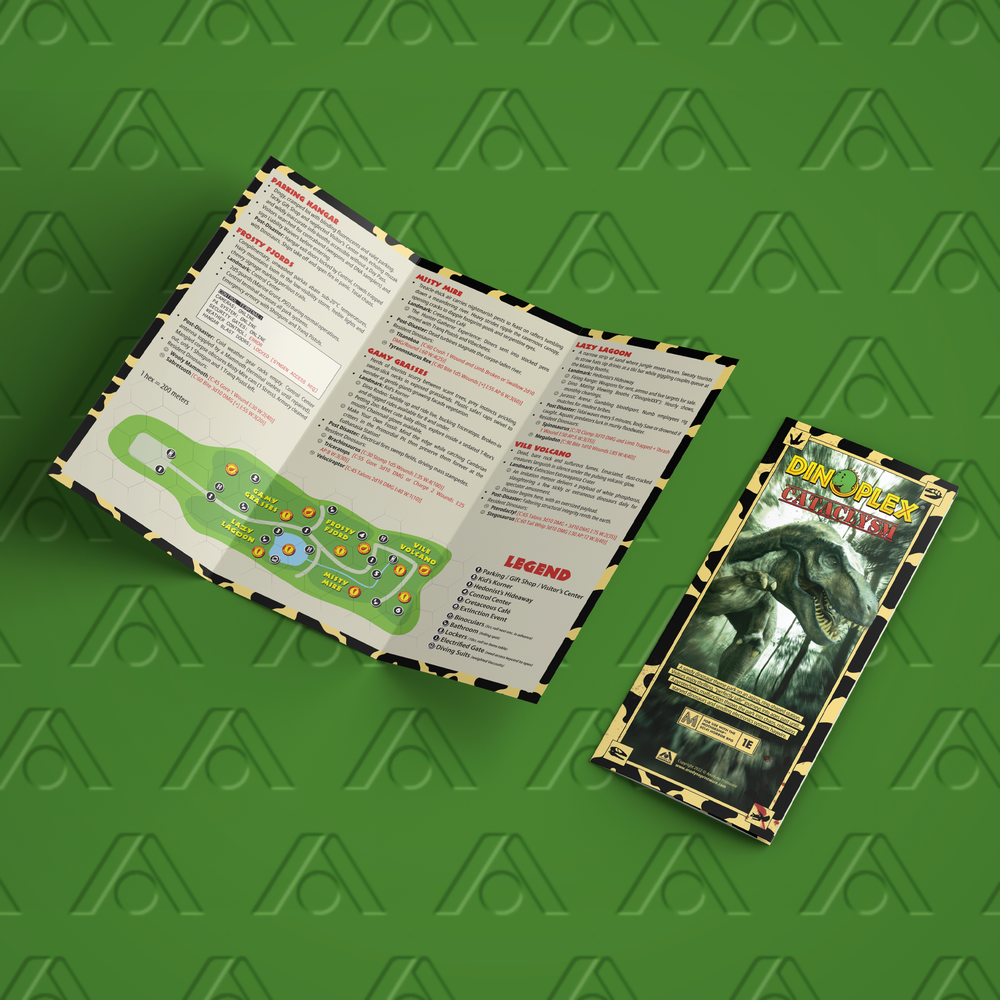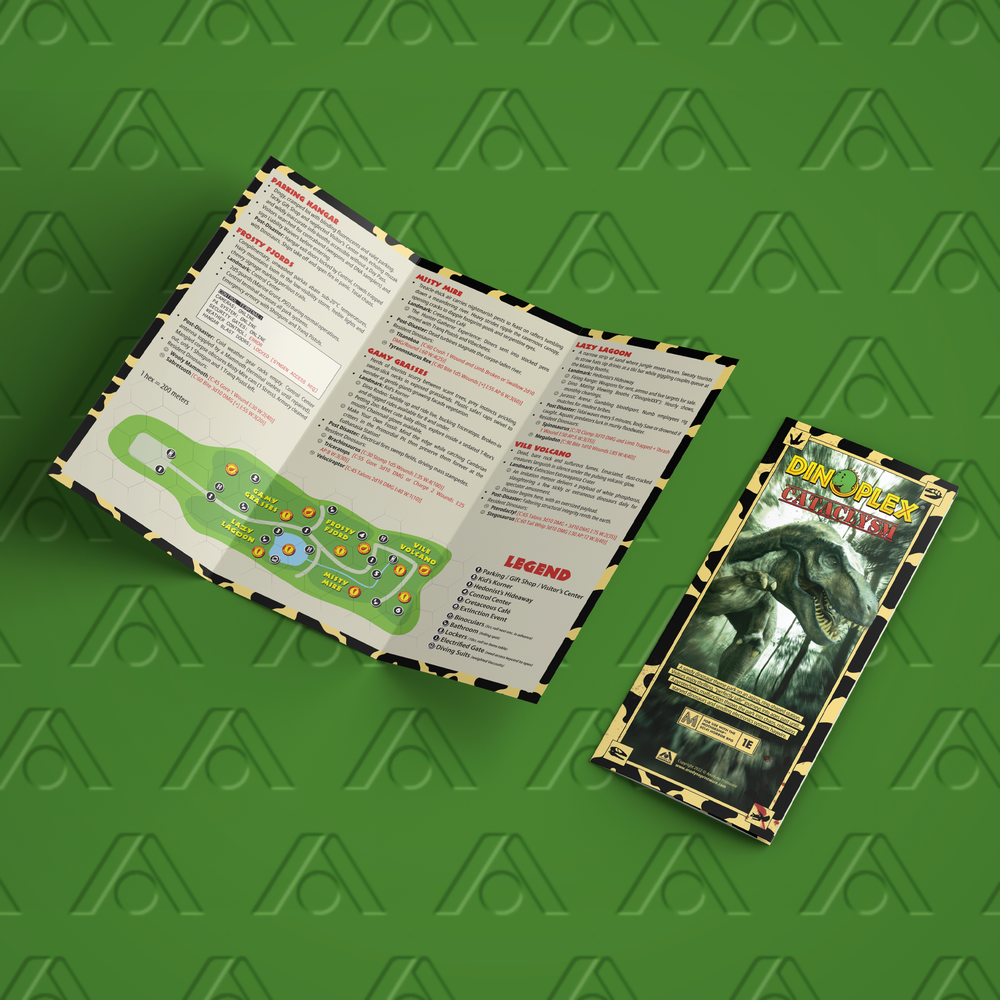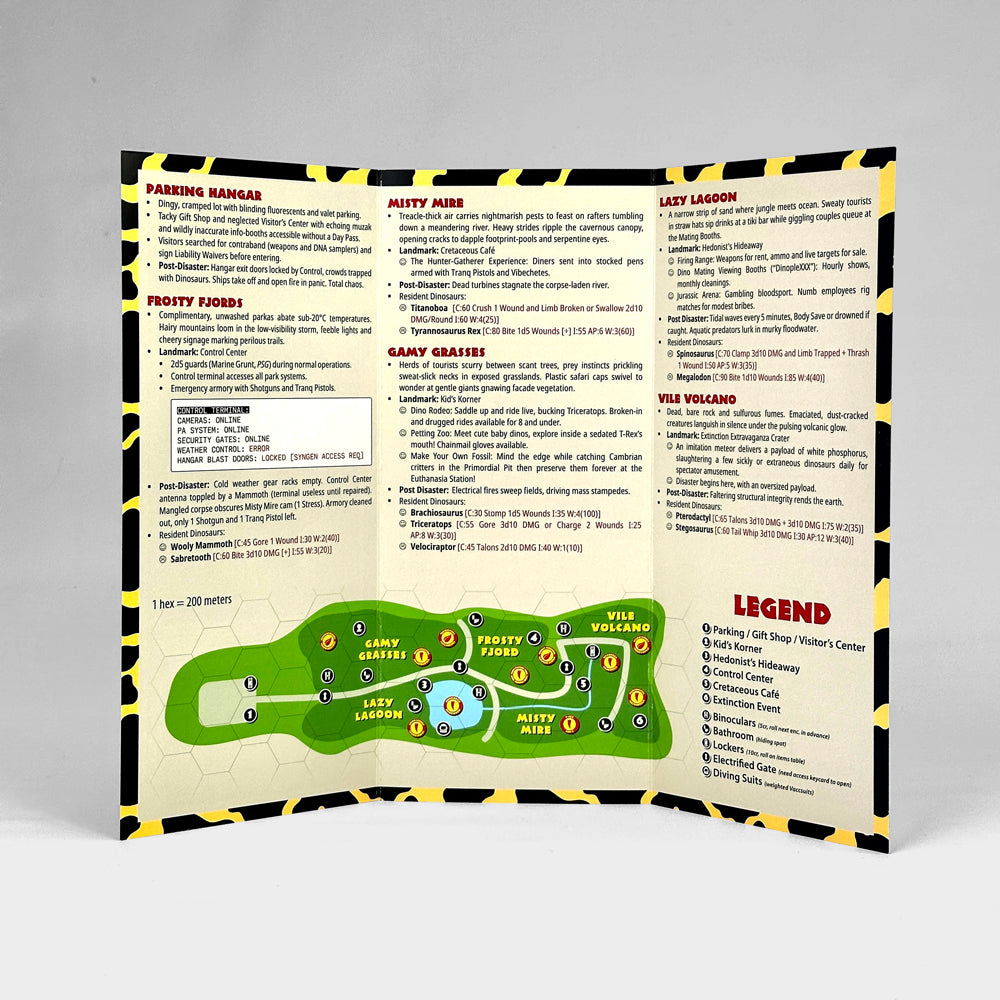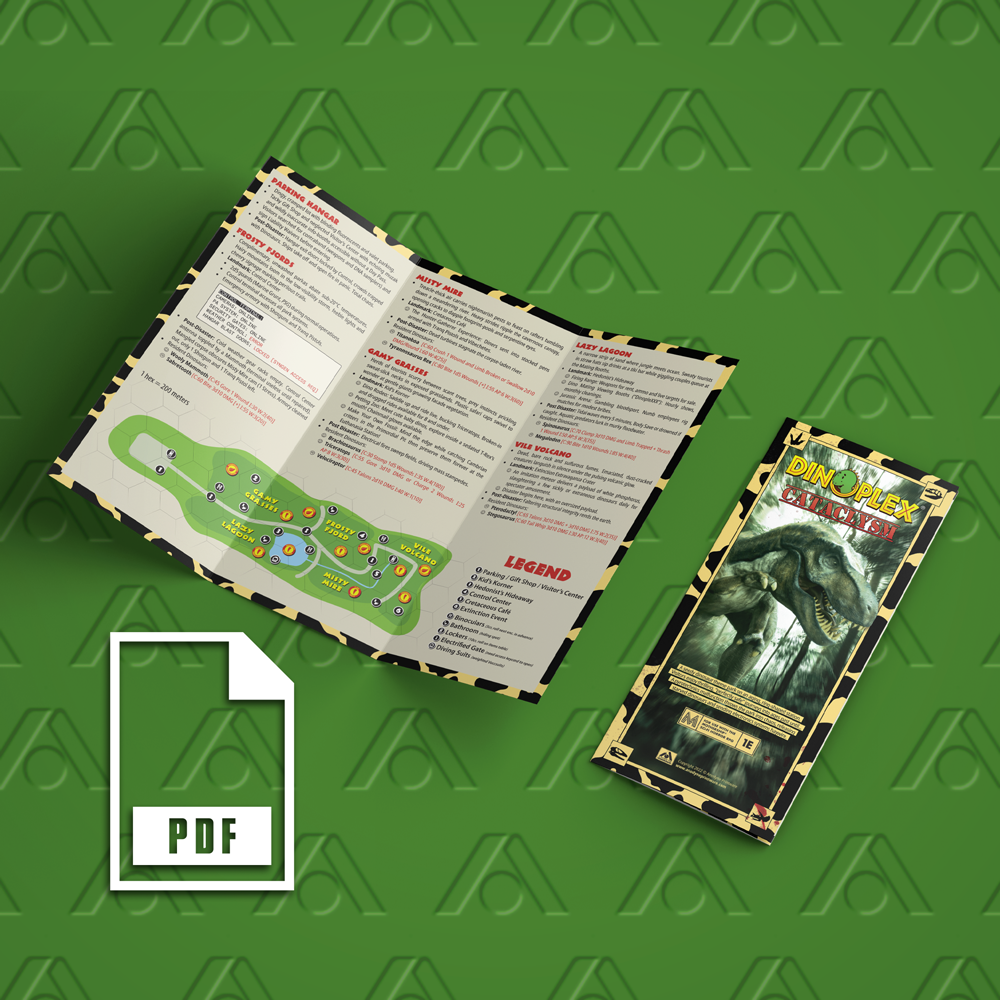 Swipe ⇄ for more images.
Regular price
Sale price
$5.00
Unit price
per
Sale
Sold out
Explore a seedy dinosaur wildlife park! Corporate-horror laden tourism turns to terrifying disaster scenario when a pyrotechnics malfunction looses starving dinos on hapless visitors.
Product Description

Forget booze-bending snore leave, take your UTO hours to one of our safe and thrilling Dinoplex theme stations!
Dinoplex: Cataclysm is a sci-fi horror pamphlet adventure for Mothership 1st Edition (Tuesday Knight Games), or your favorite sci-fi tabletop RPG system. It's loaded with bonus props to delight and frighten your players and ready to go as a one-shot or slot into your ongoing campaign. It includes:
A colorful hex-map

of the park and its features.

Tantalizing park attractions,

including: the Tricera Rodeo, a shooting gallery (with live targets), and the Extinction Extravaganza.

New items, NPCs,

and of course:

FULLY STATTED DINOSAUR HOSTILES!
Three audio files

of unsettling PA system announcements to play at your table.

An authentic liability waiver handout

full of devious fine print.

A player-facing map handout

with dino-locating minigame.
Specifications and Credits
A full color tri-fold pamphlet. Includes color and B&W print-friendly PDFs.
Compatible with Mothership 1st Edition.
Made entirely by humans.
THE TEAM
Pamphlet Written by Ian Yusem (Moonbase Blues)
Liability Waiver Written by Emily Weiss, Esq.
Layout by Eric K. Hill (Green Tomb)
Map and Cover Design by Meredith Silver
Audio Written and Performed by Ian Yusem w/ Sound by Eric K. Hill

Published by

Anodyne Printware
Shipping Information
LOCATION: All our books ship from our warehouse in Maryland, USA.
SPEED: Our warehouse strives to ship out packages within 1-2 business days of orders placed during business operations (Monday - Friday). If you place an order on Friday, Saturday or Sunday, your order will likely not ship until the following week.
TRACKING: All shipping is fully tracked.
PACKAGING: Your order will be carefully and safely packed in rigid or cardboard-reinforced mailers, or sturdy boxes depending upon the size of your order. Our expert warehouse team will handle your books with love!
CARRIERS: US-domestic orders will be shipped by USPS, UPS or DHL. International orders will be shipped via DHL.
INTERNATIONAL ORDERS: Please note that shipping costs do not include any customs fees, duties or taxes applicable to your country of residence, and you will be responsible to pay any such fees due on your order upon delivery.
View full details