Menu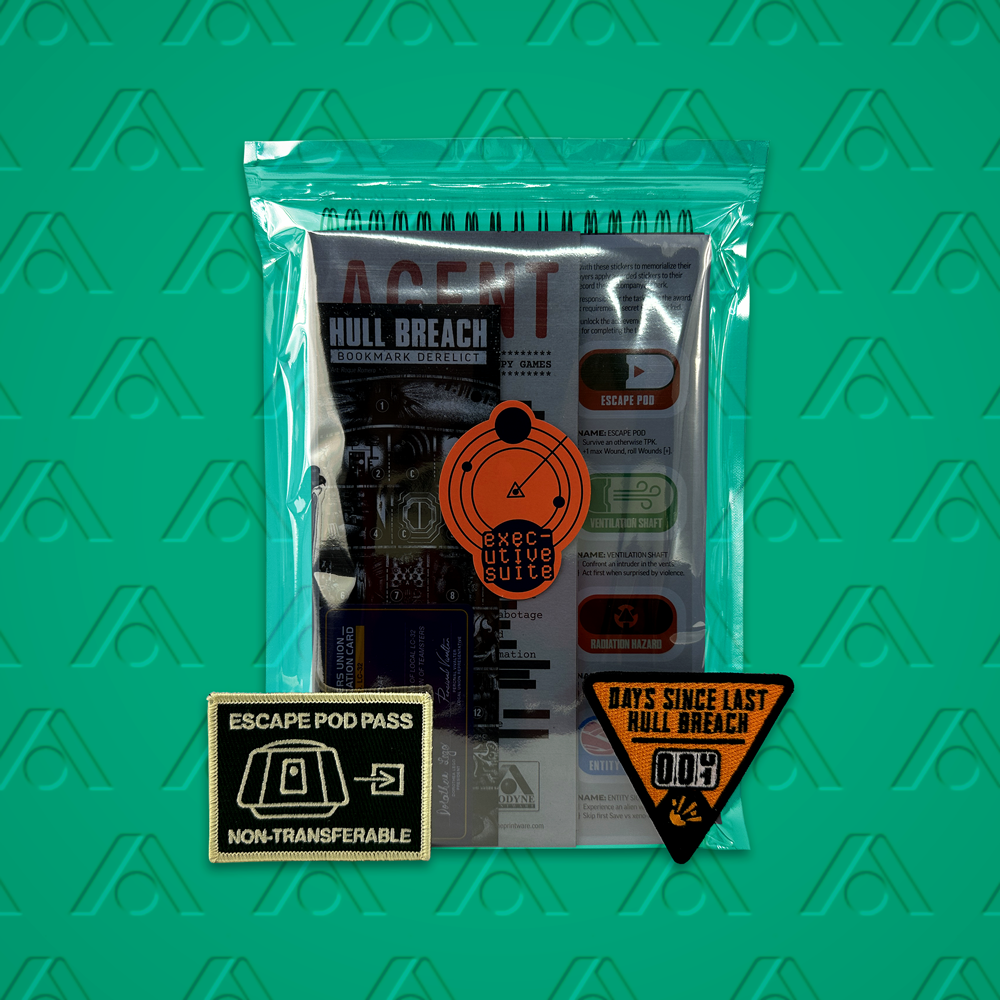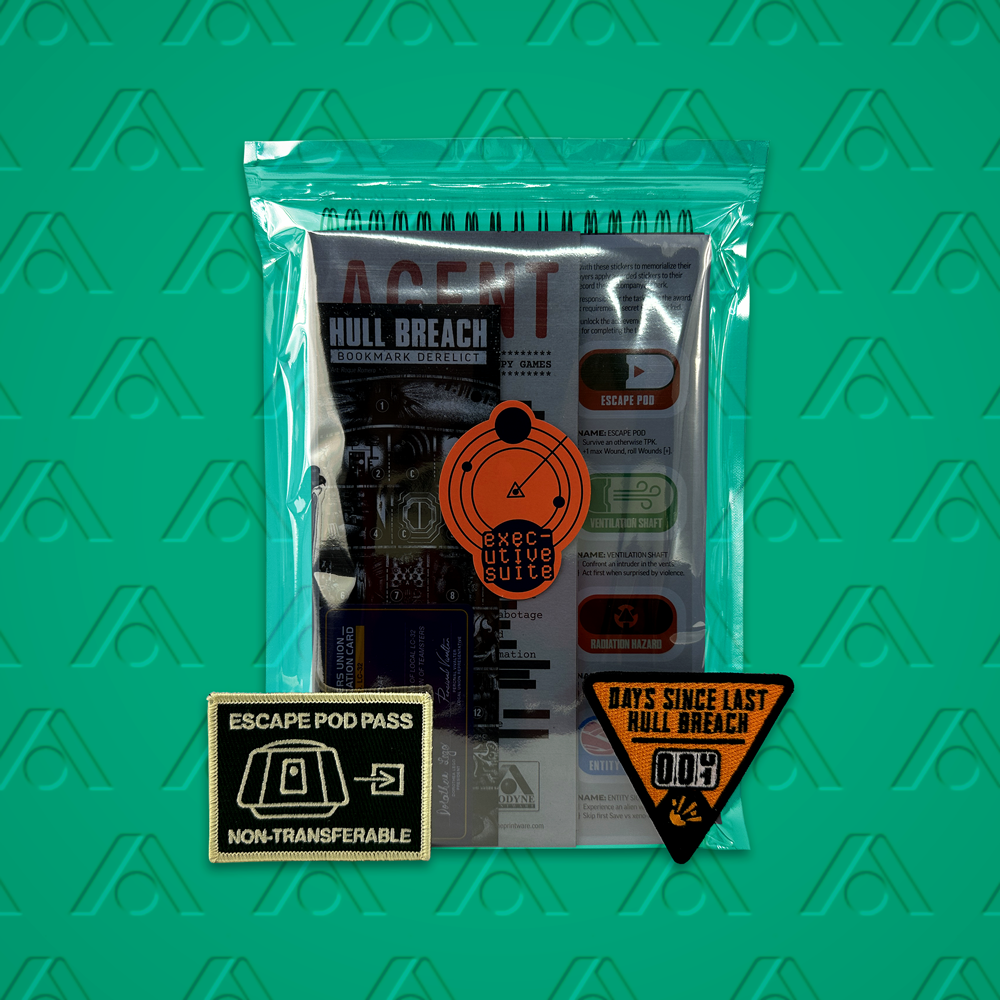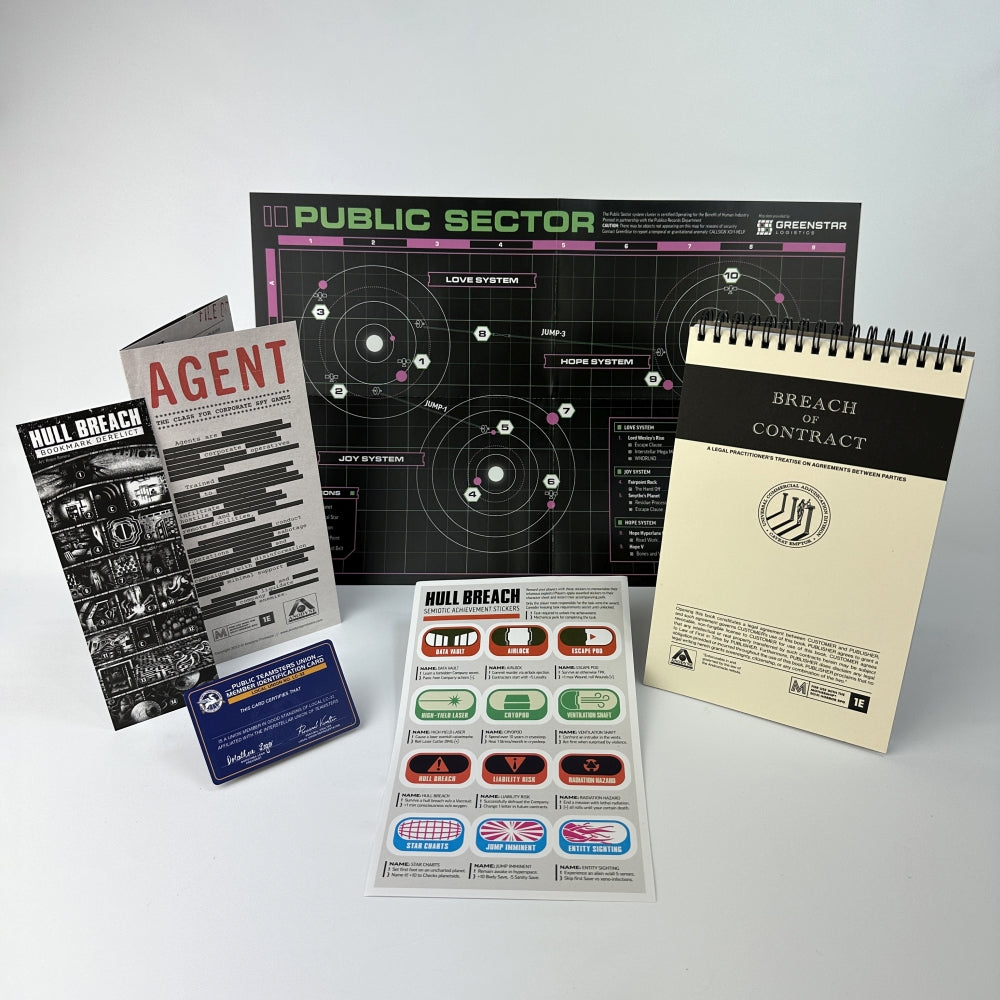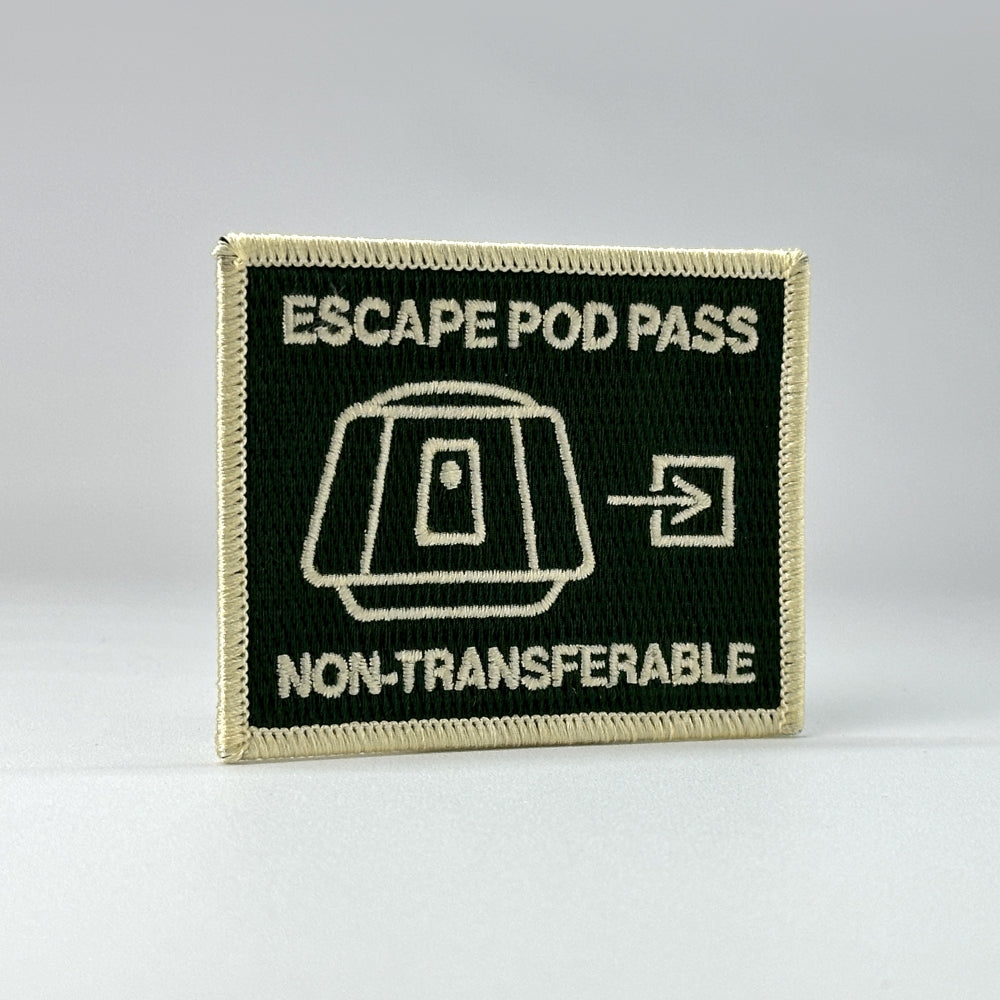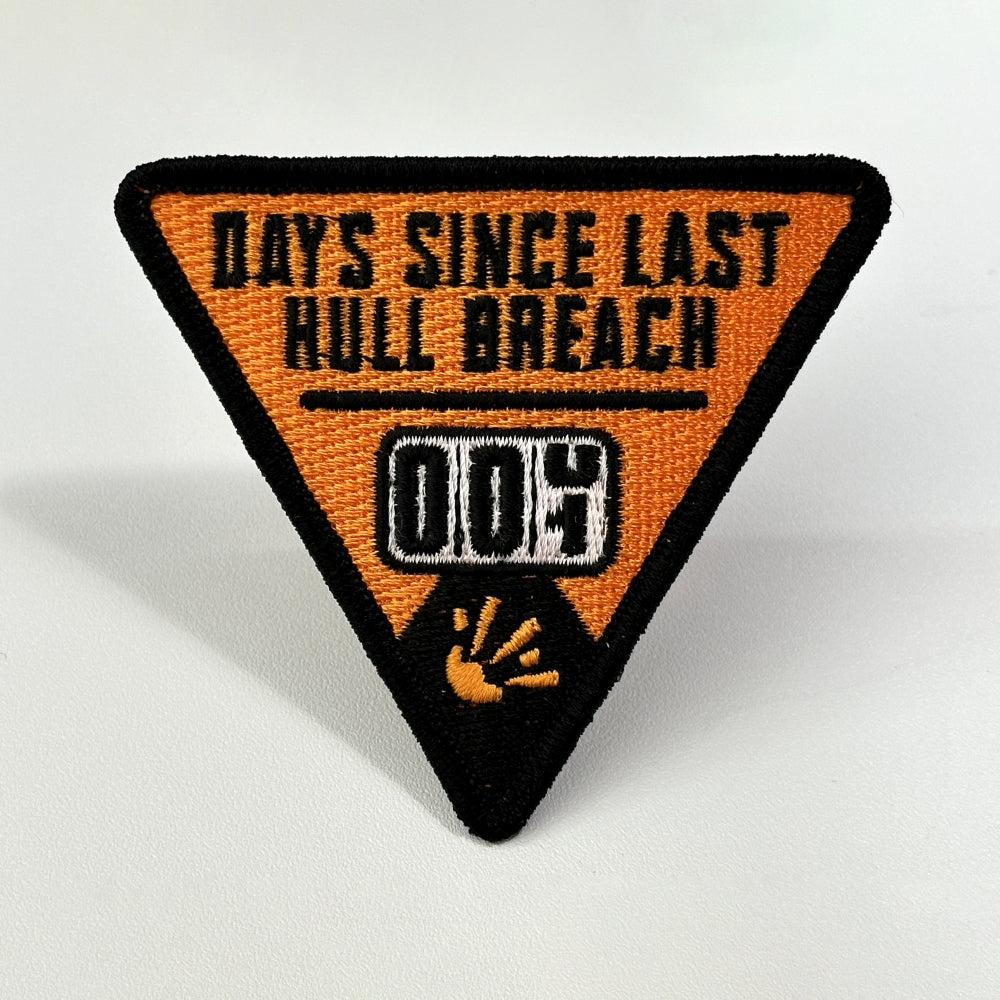 Swipe ⇄ for more images.
Regular price
Sale price
$40.00
Unit price
per
Sale
Sold out
Indulge yourself with this suite of exclusive Hull Breach Vol. 1 bonus content, patches and physical paraphernalia. These surplus materials from our Kickstarter are available in extremely limited supply, never to be reprinted.
Product Description
CONGRATULATIONS! You qualify for our luxury Executive Suite accessory bundle, morale-boosting "Days Since Last Hull Breach" patch and emergency "Escape Pod Pass" patch!
EXECUTIVE SUITE BUNDLE
This premium Hull Breach Vol. 1 accessory and content-expansion pack will elevate your Mothership gameplay paradigm. Protected inside our electronics-rated antistatic bag, you'll find the following collectable items:
Breach of Contract
The definitive guide interstellar corporate law for Mothership 1e, complete with tear-away contract handouts and brutal enforcement guidelines. 86-page wirebound book.
Agent Class
A brand new Mothership class trained for corporate spy games and intrigue-laden scenarios. Tri-fold pamphlet.
Public Sector Map
Foldout full-color 17" x 11" poster star map of the Hull Breach Vol. 1 campaign setting. Exclusive item.
Bookmark Mini-Dungeon
A complete, fully illustrated haunted derelict-crawl dungeon that fits on a bookmark! You never know when you need an emergency scenario. Exclusive item.
Semiotic Sticker Pack
Beautiful graphical stickers inspired by the famous Alien semiotic standard ship icons. Each sticker acts as an unlockable character-sheet achievement with unique mechanical benefits! Exclusive item.
Teamsters Union ID Card
Rep your local interstellar Teamsters Union with this fun prop ID. Check the back for gameable Union safety requirements! Plastic ID Card.
Your purchase comes with PDF versions of both Breach of Contract and the Agent Class.
---
HULL BREACH PATCH
Oh you, always with the morbid jokes! We have to laugh to keep from crying in the inhospitable vacuum of space, am I right?
Orange, triangular 3" x 3" embroidered iron-on patch. 
Text: "DAYS SINCE LAST HULL BREACH | 000"
---
ESCAPE POD PASS PATCH
Guarantee your safety when self-destruct alarm starts blaring! Secure your escape today.
Green, rectangular 3" x 2.5" embroidered iron-on patch. 
Text: "ESCAPE POD PASS | NON-TRANSFERABLE"
---
These items are exclusive to the Anodyne online store (YOU ARE HERE).
Accessory and patch design by Eric Hill, Lone Archivist and Meredith Silver
Published by

Anodyne Printware
Shipping Information
LOCATION: All our books ship from our warehouse in Maryland, USA.
SPEED: Our warehouse strives to ship out packages within 1-2 business days of orders placed during business operations (Monday - Friday). If you place an order on Friday, Saturday or Sunday, your order will likely not ship until the following week.
TRACKING: All shipping is fully tracked.
PACKAGING: Your order will be carefully and safely packed in rigid or cardboard-reinforced mailers, or sturdy boxes depending upon the size of your order. Our expert warehouse team will handle your books with love!
CARRIERS: US-domestic orders will be shipped by USPS, UPS or DHL. International orders will be shipped via DHL.
INTERNATIONAL ORDERS: Please note that shipping costs do not include any customs fees, duties or taxes applicable to your country of residence, and you will be responsible to pay any such fees due on your order upon delivery.
View full details